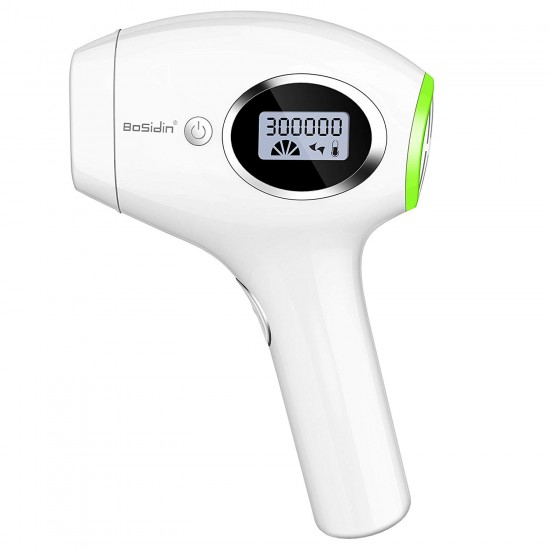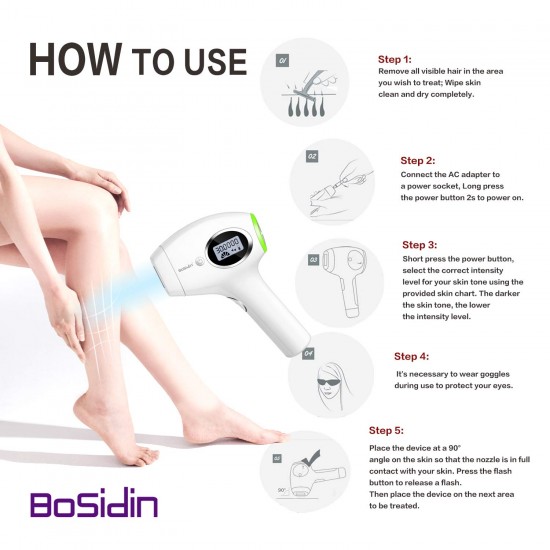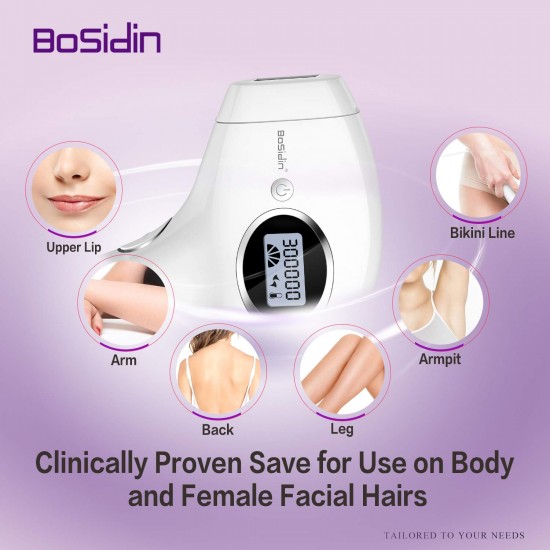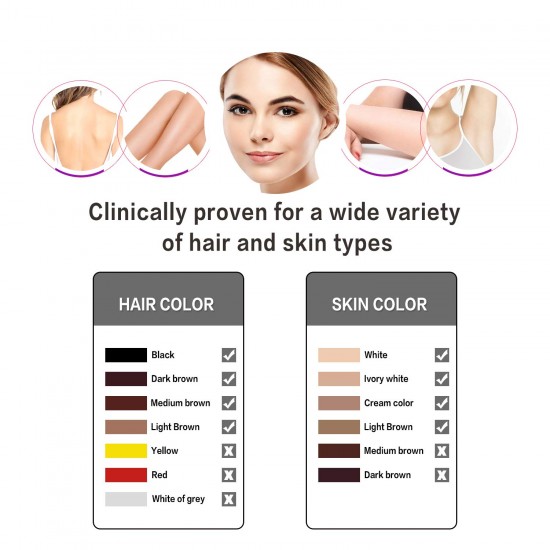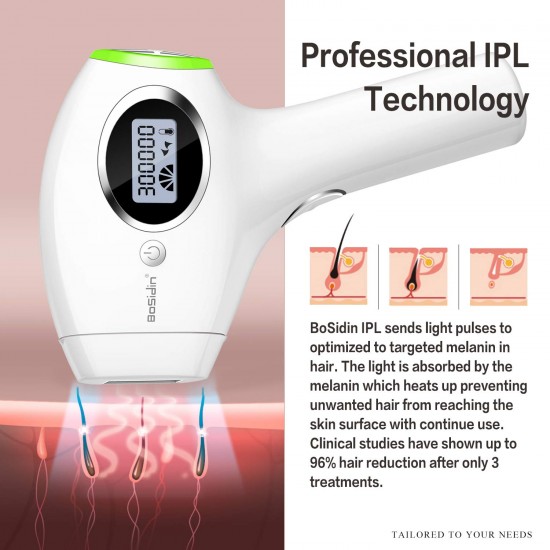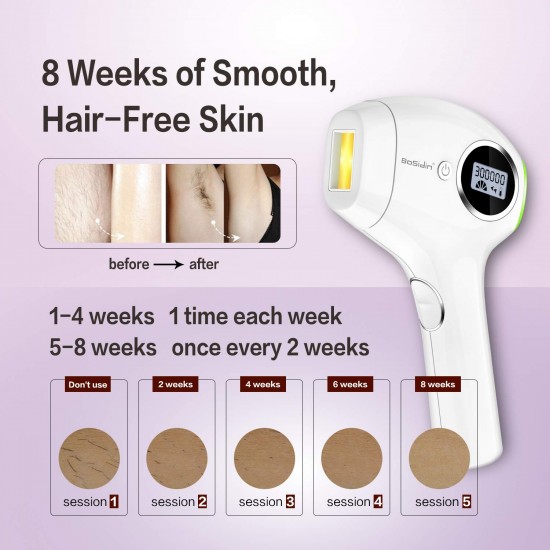 BoSidin Permanent Hair Removal for Facial & Body
Stock:

In Stock

Weight:

500.00g

Ship From:

Dubai

BoSidin
Clinical studies have shown that just after 3 treatments consumers experience 96% reduction in hair growth.
Advanced ice compress function to reach quite comfortable and safe hair removal treatment.
Designed for full body permanent hair removal including arms, underarms, bikini line, legs, back and female facial hairs.
BoSidin IPL was developed with leading dermatologists, allows you to treat easily and effectively at home.
Convenient and super-easy to use, you will get a salon quality treatment in the privacy of your own home.
Intelligent Skin Tone Sensor
BoSidin devices all feature a skin tone sensor system that reads your skin tone-80x per minute to prevent it from flashing if it does not detect a valid, safe skin tone. The ideal amount of light is delivered with every pulse for safe and effective use. It is very efficient and easy to use even for beginners.
AI Control Technology
BoSidin uses unique AI Control technology which has greatly reduced the flash interval and ensured the effect. Auto-flash method will provide you the smooth pulse and ultra-fast flash. Instant flash with no waiting.
Triple UV Filter System
BoSidin uses a triple high-level UV filter system. First, reduce harmful light from the emission source. Second, absorbe and filtere the energy to the largest extent when it is emitted. Third, completely block the harmful light before the energy reaches the skin. Multiple filtration that greatly protect you from harmful light.
Anti Light Leakage System
BoSidin has perfectly combined the safety and anti-leakage device, using an integrated double filter to reduce light leakage and keep the effective energy. In addition, it has extended the length of flash head, and only flashes when it is full contact with your skin. BoSidin is not only safe but also ensures the energy oriented which provides you multi-layer protection during treatment.
360° Surround Cooling Technology
360°Surround Cooling Technology helps to cool treatment area rapidly. 4℃ cooling protective layer will be formed on the skin surface after treatment which can shrink your pores and provide you a more gentle, comfortable and safe experience.
Smooth Skin Flawless Appearance
96% of users experienced noticeable results after 3 times. 90% of users experienced no growth within 2 months after the first treatment. Noticeable visible hair reduction – even after 12 months from the last treatment. You will get a smooth skin with flawless Appearance, and a salon quality treatment in the privacy of your own home.
Exclusive Attachments
BoSidin has designed three attachments for different body parts, which can perfectly attach onto the skin and remove all the unwanted body hair. Even sensitive areas such as bikinis and underarms can also be solved easily. You will get a salon quality treatment in the privacy of your own home.